Replaced In-house Hiring Team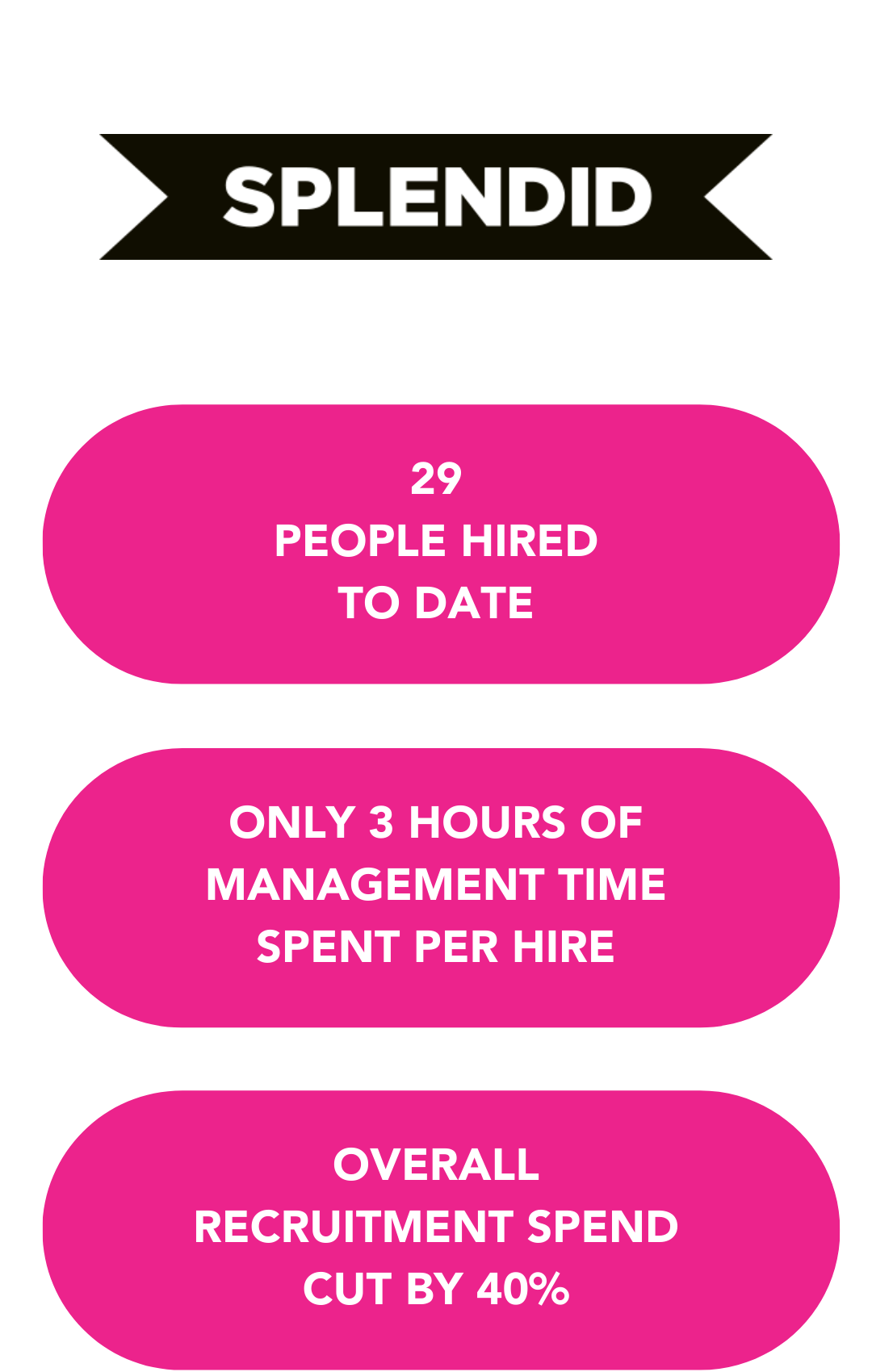 THE CHALLENGE
Splendid Communications is a mid-sized PR and social media agency based in Central London. The in-house recruiter was using multiple agencies as support which was expensive, extremely time consuming, but also frustrating as they never fully understood Splendid's culture. 
An ambitious growth plan called for a high volume of high calibre candidates, so they partnered with Nurture's to replace their internal team, streamline the recruitment process – and ultimately hire brilliant people.
THE RESULTS
One of our Talent Managers spends one day a week in their office and has taken over their entire recruitment process including advertising, screening, first stage interviewing, and all the admin in-between. We help them create a talent pipeline for both current and future hires.
We work closely with Splendid's HR team on job descriptions, process management and offer negotiation, and attend weekly leadership meetings. By becoming an extended part of their team we have developed a genuine understanding of how they work and what kind of people thrive at Splendid. That means we hire the right people the first time around and keep staff turnover down.
As well as regular meetings with Splendid, we also arrange follow-ups with every candidate we've placed 2-3 months after their start date. We act as a middle-man and help iron out any small issues or frustrations (imagine how useful this would be if you don't have a HR team?).
Splendid initially partnered with us on a 6 month contract as our first ever client, and we are delighted to still be working together two years down the line.
Nurture came along and we've not looked back since. We have a great collaborative working relationship – they get me, they get the agency and they understand people. In addition to all of this our recruitment costs have been reduced and I no longer have to manage lots of other suppliers. It's been a breath of fresh air. Thanks Nurture!
Emma Curnow, HR Manager, Splendid Communications
Reduced Hiring Costs & Time Saved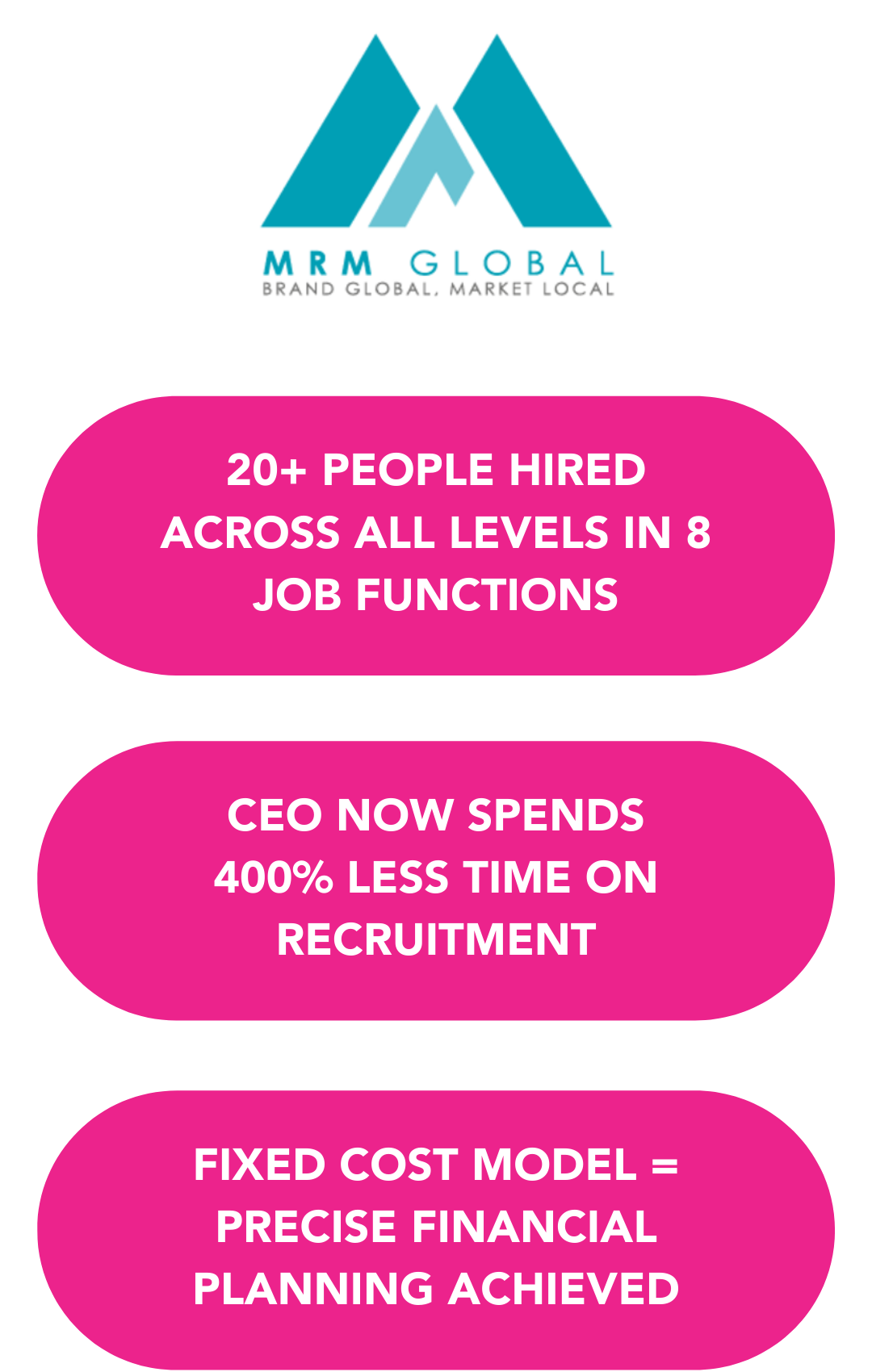 THE CHALLENGE
MRM Global are a leading SaaS tech provider to the global drinks sector. They had experienced exponential growth for two solid years when they partnered with Nurture, but as with many start-ups the hiring was driven by the CEO. He spent around 30% of his day on recruitment – definitely not where his time was best spent – and wanted someone to take full control and only involve him at the second interview stage.
Their team headcount was 20, plus one single person in a management role. MRM wanted to double the team size within a year and hire a top notch executive leadership team to lead the way as they took the next step on their growth journey.
THE RESULTS
Our embedded team of three reached the target of 20 hires and MRM saw an overall cost saving of nearly 50% (based on their average agency spend prior to working with us). We managed advertising, candidate sourcing, screening, admin, first stage interviews – the lot.
The hiring need for the general team varied from entry level in project management to management roles across Tech, Design, Supply Chain & Sales. To source second to none, high calibre candidates we gave MRM access to our internal talent pool and the many CV databases we partner with.
MRM saw a huge financial and commercial benefit in being charged a fixed monthly fee that didn't change regardless of the levels of roles they were hiring. This became crystal-clear as we filled these positions in only 6 months:
• COO    • Head of Product    • Head of Supply Chain
• CTO     • Head of Design     • Head of Commercial
Their total spend with us was less than 50% of what they would have paid a traditional agency. Not bad huh?
We started working with Nurture at a time when we were growing quickly and knew that we needed to fill a number of key positions in the coming months. They've helped us hire a new leadership team and have consistently found us the right people across a number of functions.
Craig Letton, CEO, MRM Global
Scaling Rapidly Post Series A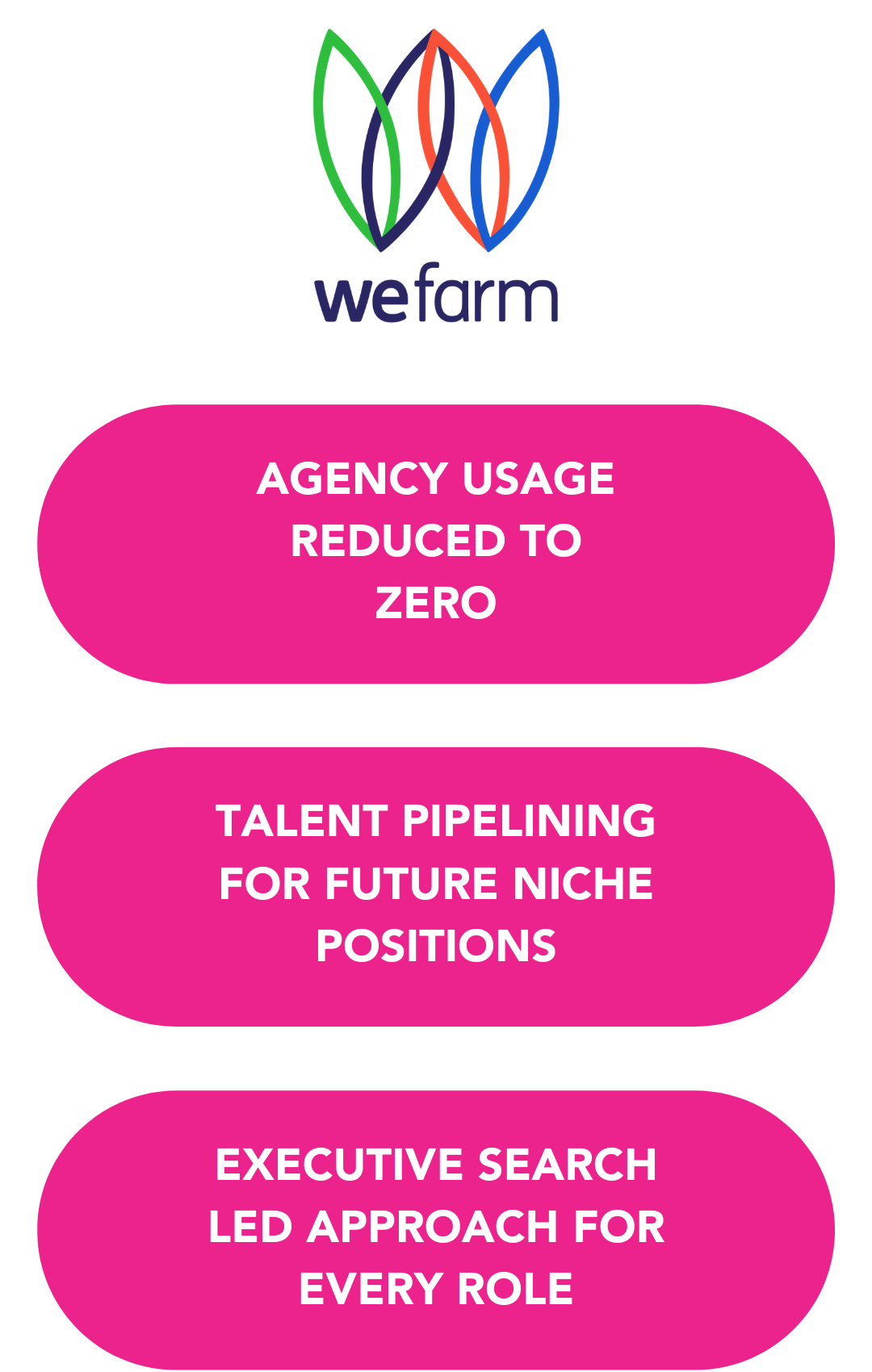 THE CHALLENGE
Wefarm is the world's largest digital network for peer-to-peer information sharing between farmers. They came to us with two problems; the external recruitment agencies they used to support their in-house recruitment team were extremely costly, but more importantly they lacked an understanding of the business and it's unique culture.
Having raised a Series A round in late 2019, Nurture partnered with Wefarm as they scaled rapidly across all areas of their business. Their objective was to reduce recruitment agency usage to zero.
THE RESULTS
Wefarm had already done a great job of building some internal processes around hiring, but the sheer volume had become too much for the existing team to handle. By sitting on-site and truly getting to know their team and culture, we were able to not only identify which candidates had the right skills, but who understood and embraced the Wefarm mission.
Our service is so much more than hiring. In addition to traditional recruitment services we have helped Wefarm:
Create future pipelines and skill-specific candidate pools for hires that the business are looking to make in the medium term.
Carry out external benchmarking for roles within Marketing and HR.
Support from a people & talent operations perspective, working alongside the in-house team.
Although our partnership with Wefarm started fairly recently, we have made some key hires in skills-short functions.